This article provides an overview of the changes included in the Digital Theatre+ upgrade launched in April 2021
Following feedback from our customers, and in acknowledgement of the needs of Educators and Students around the world, we have launched an major upgrade to Digital Theatre+ which includes the following improvements:
An improved video streaming infrastructure
An improved search
Excellent accessibility for users of assistive technology
Improved performance and reliability
Improved navigation and usability
Improvements to security and data privacy
A platform that will continue to evolve to better meet your needs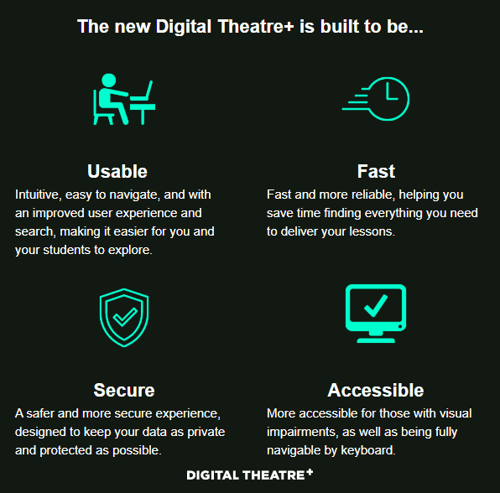 Update your bookmarks
The upgraded service has been launched at https://edu.digitaltheatreplus.com and, whilst most URLs from our 'www' domain have been redirected, we recommend you change your bookmarks to address the 'edu' domain directly.
What didn't change?
You will be pleased to know that all the same great content that you rely on is available on the upgraded platform.
Also, you can continue to access the service using the same authentication mechanisms you used on our legacy site.