Explains how to configure a WAYFless URL to bypass the 'Where are you from (WAYF)' form during SSO
What is a WAYFless URL
A WAYFless URL, which is specific to an institution with associated users and to a web-based service or resource, enables a user from that institution to gain federated access to the service or resource in a way that bypasses the 'Where Are You From' (WAYF) or Discovery Service step. Since a WAYF can be confusing and unpleasant to negotiate, bypassing it represents an improved end-user experience; this in turn can help organisations ensure that their users get best use of the services and resources that they provide.
See Best Practice: WAYFless Access to Resources on the UK Federation website for more.
Where is the Digital Theatre+ 'Where are you from' form?
On www.digitaltheatreplus.com the 'Where Are You From (WAYF)' step is on the right hand side of this page: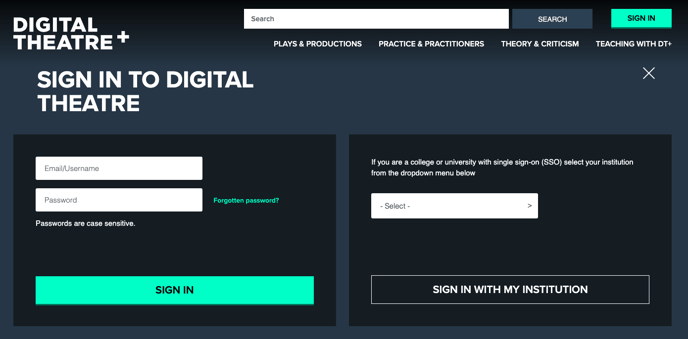 Using WAYFless URLs to bypass the 'Where are you from' form
Users of UK Federation are able to bypass the 'Where are you from' form by using a URL structured as follows:
https://www.digitaltheatreplus.com/Shibboleth.sso/Login?entityID=your-entity-id&target=https%3A%2F%2Fwww.digitaltheatreplus.com%2Feducation
Instructions
You must have completed the process for setting up your organisation for Single Sign On to Digital Theatre+.
You must replace the string 'your-entity-id' with the Entity ID of your Identity Provider.
You may also use the UK Federation WAYFless URL generator to create this URL for you.