This article provides information about the Digital Theatre+ Service Provider (SP) and it's availability in UK Federation, InCommon and eduGain
Digital Theatre+ is available as a Service Provider (SP) for use with Federated Identity providers.
The SP is published via the UK Access Management Federation (UK Federation) with the Entity ID: https://auth.digitaltheatreplus.com
The SP is also exported to eduGain, InCommon, CAF, and the Swedish Academic Identity Federation (SWAMID).
Attributes
You will need to release eduPersonPrincipalName to our Service Provider. This must syntactically appear as an email address however it does not need to be attached to a mailbox.
Sign in via Federated Identity
Go to https://edu.digitaltheatreplus.com
Click Sign In
Enter your email address
You will be prompted to select your organisation from the list. On subsequent visits your organisation will be remembered.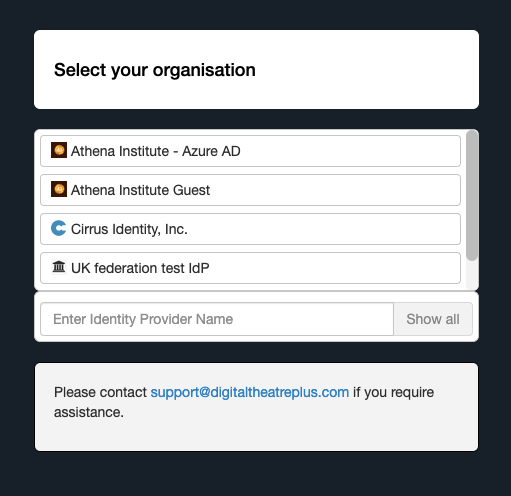 Once you complete authentication at your IdP, you will be signed into the Digital Theatre+ website.
Deep linking to specific pages
You can deep link to specific pages on the website, bypassing the 'select your organisation' step by creating a URL as follows:

https://digitaltheatre.proxy.cirrusidentity.com/saml2/idp/SSOService.php?spentityid=https://auth.digitaltheatreplus.com&RelayState=<URL TO SPECIFIC RESOURCE>?fromAcs=true&IDPList=<YOUR ENTITY ID>

You will need to replace the following values:

<URL TO SPECIFIC RESOURCE> - for example: https://edu.digitaltheatreplus.com/content/productions/allegiance
<YOUR ENTITY ID> - for example: https://test-idp.ukfederation.org.uk/idp/shibboleth
The correctly constructed deep link for the above examples will look like this:
https://digitaltheatre.proxy.cirrusidentity.com/saml2/idp/SSOService.php?spentityid=https://auth.digitaltheatreplus.com&RelayState=https://edu.digitaltheatreplus.com/content/productions/allegiance?fromAcs=true&IDPList=https://test-idp.ukfederation.org.uk/idp/shibboleth