This article describes how to set up Clever to allow your users to sign in using SAML 2 Single Sign On (SSO)
Summary
District Administrator: Request the Digital Theatre+ application
District Administrator: Exchange metadata
District Administrator: Setup sharing rules
Users can now sign in.
Pre-requisites
You must be an existing customer of Clever.com
You will need District Admin permissions for your Clever account
Your users will need to have email addresses in Clever
Steps
Request the Digital Theatre+ application
Sign into Clever using your District Administrator credentials
The application name within Clever is: 'Digital Theatre Plus Edu'
The URL to request the app is: https://schools.clever.com/applications/add/60a54fde4e1b5e00131e5f13
Click the 'Request application' button
The application is automatically approved upon request
Exchange metadata
Go to the application Settings, and copy the Metadata URL (see the screenshot below marked '1')
Submit a request for a new SSO configuration via https://sso.digitaltheatreplus.com and paste the metadata URL into the field marked 'Do you have a public URL for your IdP metadata?'. You will need to wait for Digital Theatre+ to respond in order to continue.
Digital Theatre+ will provide your unique ACS Identifier by return, this is a string of 20 characters that uniquely identifies your organisation to Digital Theatre+.
Edit the SAML Details (screenshot below marked '2') and copy/paste the ACS Identifier into the ACS URL ACCOUNT field (screenshot below marked '3')
Do not enter the full ACS URL into the ACS URL ACCOUNT field. Just enter the final part.
For example, if your ACS URL was: https://auth.digitaltheatreplus.com/sso/saml2/0oa1i3jhiw5N44ZK14x7
Then 0oa1i3jhiw5N44ZK14x7 is the value to enter into the ACS URL ACCOUNT field.
Note: Do not paste the full ACS URL here, just the last part, e.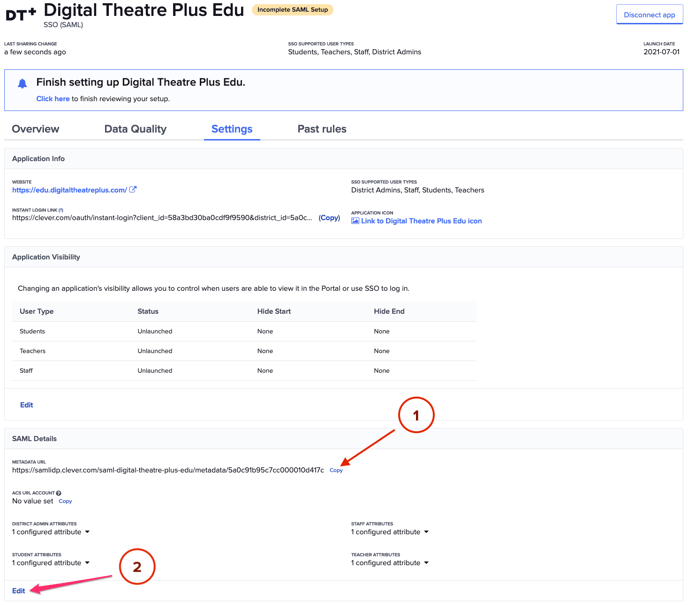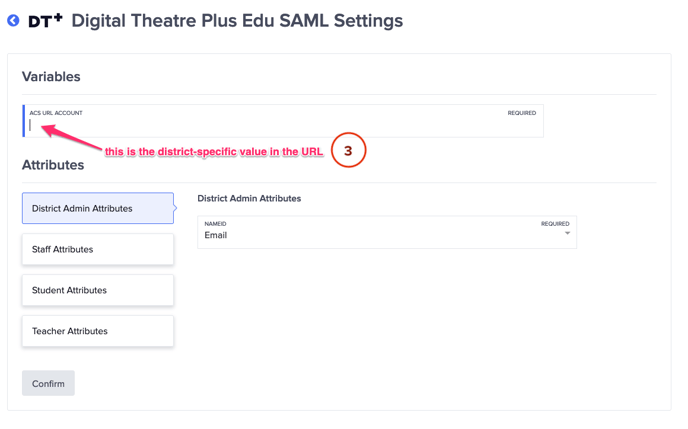 Setup sharing rules
The District Administrator will need to configure sharing rules to allow the Teachers, Staff and Student to sign in using Clever for SSO.
Clever provide an article on sharing rules on their support website.
Users can now sign in
Once the above steps are complete, users are able to click on the Digital Theatre Plus Edu application and they will be signed into the Digital Theatre+ website.
Other information
Clever refer to this support article for further information about custom SAML connections.