We are continuing to improve our education-focused user experience by introducing content discovery by subject and "skill".
This new functionality aims to simplify the experience of discovering content and to allow teachers to understand and evidence how a resource helps their students learn specific skills that are part of their educational curriculum/standard.
This functionality is being designed and introduced for Secondary Education institutions and is not available to those subscribers belonging to Higher Education institutions.
What's changed on the platform?
This new functionality will mean two new subject directory pages on Digital Theatre+:
English/ELA (now available)
Drama/Theatre (coming in early 2023)
The Digital Theatre+ Education team have curated content for these directories commissioned over the last 2 years and classified this content by associated skills.
What are "Subjects"
Subjects are the key academic subjects that Digital Theatre+ caters to, namely English and Drama (UK terminology) or ELA and Theatre (US terminology).
What are "Skills"?
"Skills" are subject-specific expertise that students learn throughout the course of their
academic career, through the acquisition of knowledge, analytical techniques and technical
experience.
Each Skill focuses on a specific ability that students are developing and/or must
demonstrate, for example "Comparing and Contrasting", "Close Reading" or "Rehearsal and Collaboration".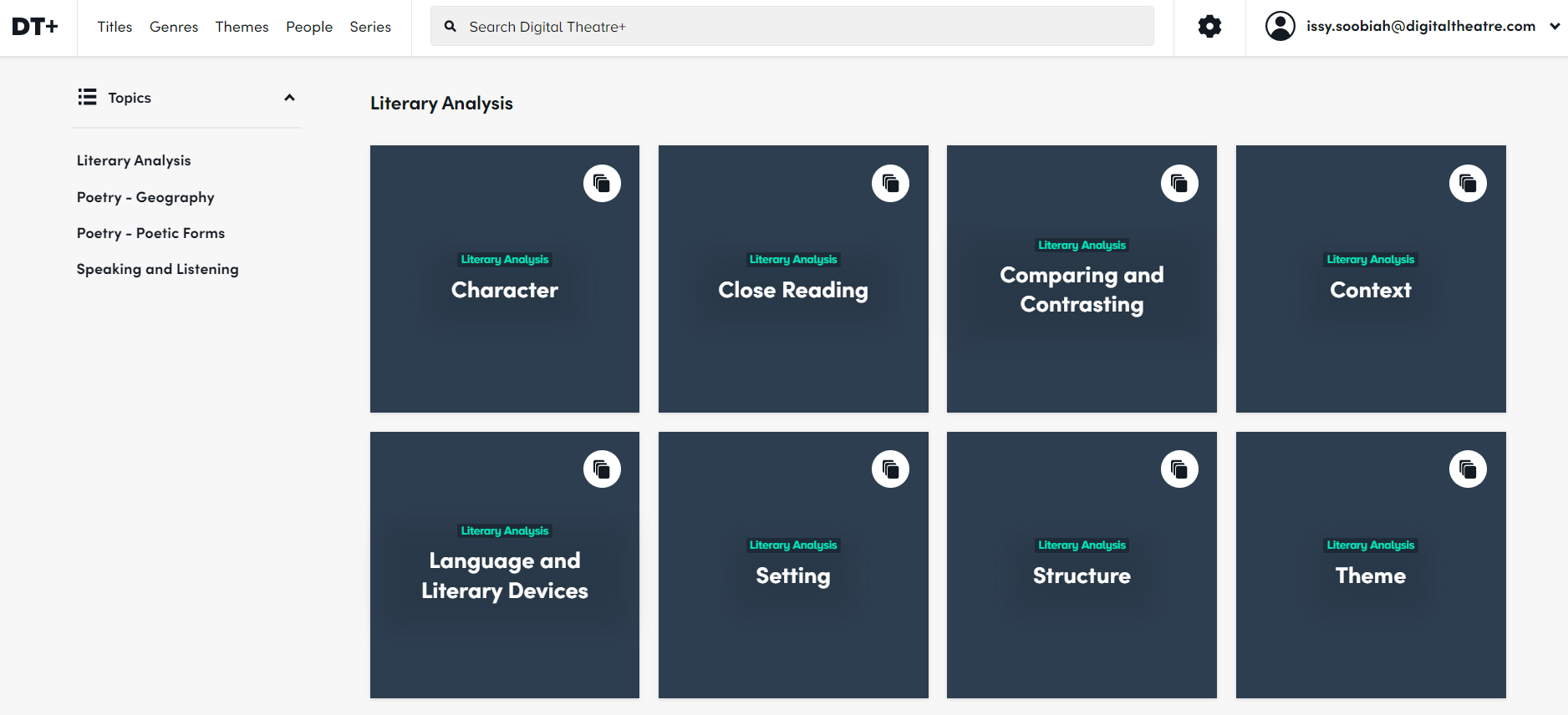 Each of our Skills falls under a specific category. These "Topics" will include "Literary Analysis", "Speaking and Listening", "Acting", "Technical Theatre" amongst others.
Terminology and Geography
Whilst the Skills identified within the Digital Theatre+ platform are subject-specific, they are geographically agnostic, being applicable to students across geographies as well as all ability levels.
The identified Skills are based on common terms found across global curriculums/standards and on the belief that this is an intuitive and meaningful way of grouping our content for our user community.
The user experience on the site will include personalised directory page labelling by location, so "ELA" and "Theatre" if the user belongs to an institution located in the U.S. or "English" and "Drama" for the rest of the world.