We have introduced new functionality to the Digital Theatre+ platform to allow you to take control of the content made available to you and your students on the site.
Who can access the new Content Controls and where are they?
This new functionality is exclusively for the named administrators of your account. The Content Controls can be accessed by signing into the platform and clicking on the cog icon located in the top-level navigation bar.

If the cog icon is not visible on the platform, the signed-in user is not currently designated as a named administrator.
If you have not yet informed us of who your named administrator is, please get in touch with our Customer Support team and let us know their full name, email address and your institution name, so that we can give them the right permissions moving forwards.
What can I do with the new Content Controls feature?
With this newly-built and long-awaited feature, you'll be able to manage access to resources on the platform, so you can be confident that what your students are browsing is appropriate for their age group and your curriculum.
In the first release, a named administrator will be able to enable or disable our standard Adult Content Filter for the organisations within their Digital Theatre+ account.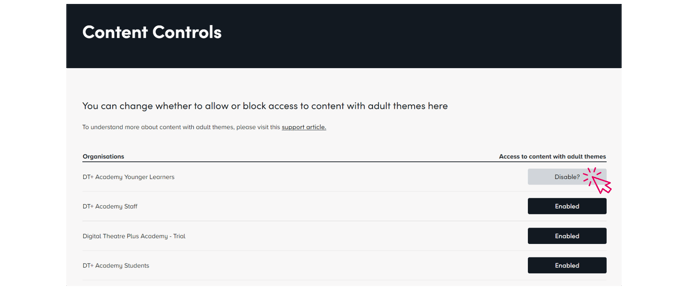 What can't I do (yet)?
If you would like to exclude a specific piece of content from the filtering rules you have selected, you will still need to get in touch with us to make a request for this exemption.
This is relevant if, for example, you have already applied our standard Adult Content Filter but:
You are teaching a particular text and, having watched and vetted an adult-themed production yourself, would like to unblock this particular resource for your users
You have concerns about an additional production not covered by our filter and would like to block this particular resource for your users also
In these scenarios, you will still need to email our Customer Support team with the URL for the resource in question and ask for us to block/unblock access on your behalf.
This additional functionality is currently being developed and is planned for future releases.
What counts as ''adult-themed content'' under the standard Adult Content Filter?
To help you understand what we mean by this term, please check out these related articles: