This article helps you understand what 'content with adult themes' means and how it may affect your access
As a resource popular across all stages of education, from middle school all the way through to university, Digital Theatre+ does contain some content with more adult or potentially triggering themes.
Therefore, we mark such content as 'contains adult themes' and can prevent access to this content for your users when required.
What counts as adult themes?
We usually determine resources as 'contains adult themes' when they contain, depict or explicitly reference one or more of the following:
strong or offensive language
discriminatory themes/language
nudity
sex
violence
substance use or abuse
suicide or other traumatic themes
flashing lights or imagery
We regularly review our content guidance in line with industry standards and customer feedback.
If we've taken the decision that a piece of mild content did not warrant being restricted due to significant educational value, that item will still be available to restricted users. However, we will always highlight any mild content guidance in the content description on the site.
What can I do if I'm concerned about access to content with adult themes?
It's important to us that you're fully informed and always able to access age-appropriate resources for your students.
As such, we provide you with the following tools:
An advanced Content Controls feature allowing you to directly manage your users' access, either by applying a standard adult content filter or blocking individual pieces of content
A comprehensive, up-to-date and downloadable report of all the resources on Digital Theatre+, including content and health guidance
Guidance and support in deciding whether you need to filter access or not
If you would like assistance in using our Content Controls feature or you have any questions or concerns you'd like to discuss, please email us via support@digitaltheatreplus.com.
How is adult content marked on Digital Theatre+?
For restricted users:
When a restricted user accesses Digital Theatre+, they will see the following messaging on any content that has been identified as containing adult themes:

If the restricted user then attempts to navigate to any of the above titles, they are unable to do so and a further explanation is provided:

For unrestricted users:
An unrestricted user will be able to click through to and view all resources on Digital Theatre+ but they will see an advisory banner directly above any resources containing adult themes: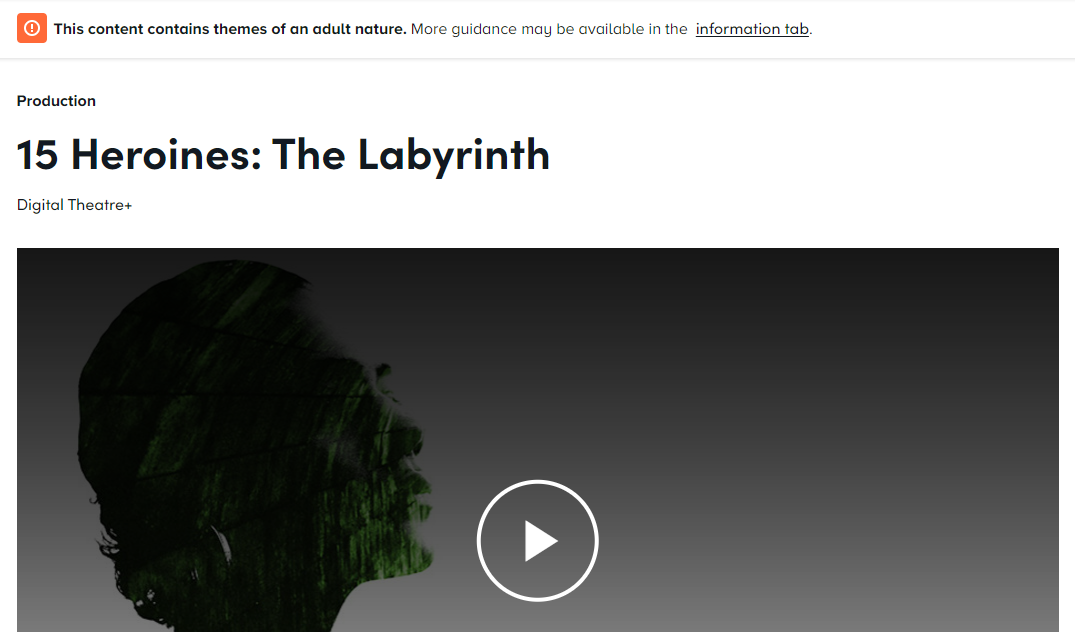 They may also find additional explanatory information in the 'Information' tab, which is both linked in the header warning banner and located directly below the resource itself: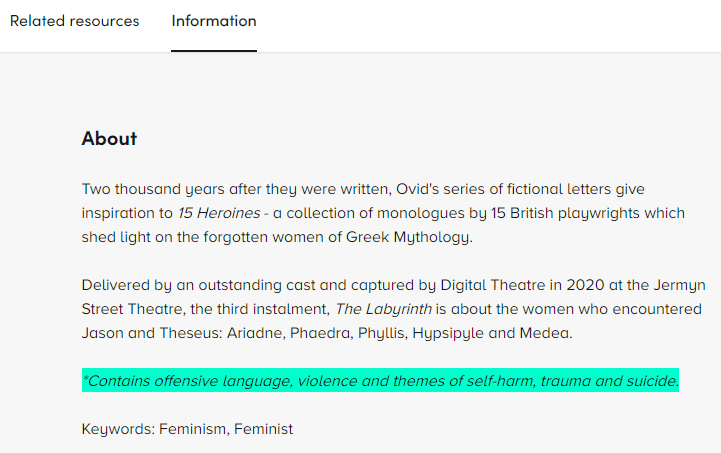 How can I block adult content like this?
We give you full control and flexibility to decide which content is appropriate for your users to access. You can learn about our advanced Content Controls feature and get step-by-step instructions on how to apply them to your account in the following articles elsewhere on our Support site:
You can also email our Support team for assistance in getting access to the Content Controls feature or book a call to speak with our Customer Success team for content guidance.